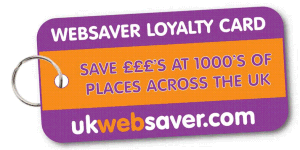 We are proud to be a part of the ukwebsaver.com lotalty scheme whereby you can get discounts off of products and services offered by us and many othernational and local businesses
Click here for more information

E-commerce
The other thing to consider when putting your web site together is whether or not to offer your customers the facility to buy online from your site. That decision may be dependant on what sort of business you are, the type of products you sell, whether it is beneficial to your business to have that facility etc.
Up until a few years ago most people were not keen to buy online. This was not helped by media sensationlism about the security of online shopping. Nearly all shopping cart programs now use secure ordering (which is symbolised by a yellow padlock that appears on your internet browser at the bottom) which shows the customer that they are purchasing from a secure site and that information sent from that site is encrypted.
Today, the amount of business that takes place online runs into billions of pounds. Providing the facility for your customers to buy online is something you should give serious consideration to. And as we said before, an online shop is open all hours of the day and you will be amazed at the amount of people that shop online outside of normal business hours. Having an online shop does of course add additional cost to getting your site up, and depending on what software you go for can either be reasonably inexpensive or can be very expensive. Again we are happy to discuss options with you which can also include something as simple as adding paypal purchasing options to your site which is a cost effective away of adding an online shopping facility to your site.